Austin TX Windows and doors
WHAT DO YOU NEED
FOR A QUIET AND SAFE HOME?
KÖMMERLING 76 is uncompromisingly good. It offers you all the benefits of modern windows, from design to function, building physics and insulation values to environmental protection and value retention. And it is also designed to satisfy future needs and requirements.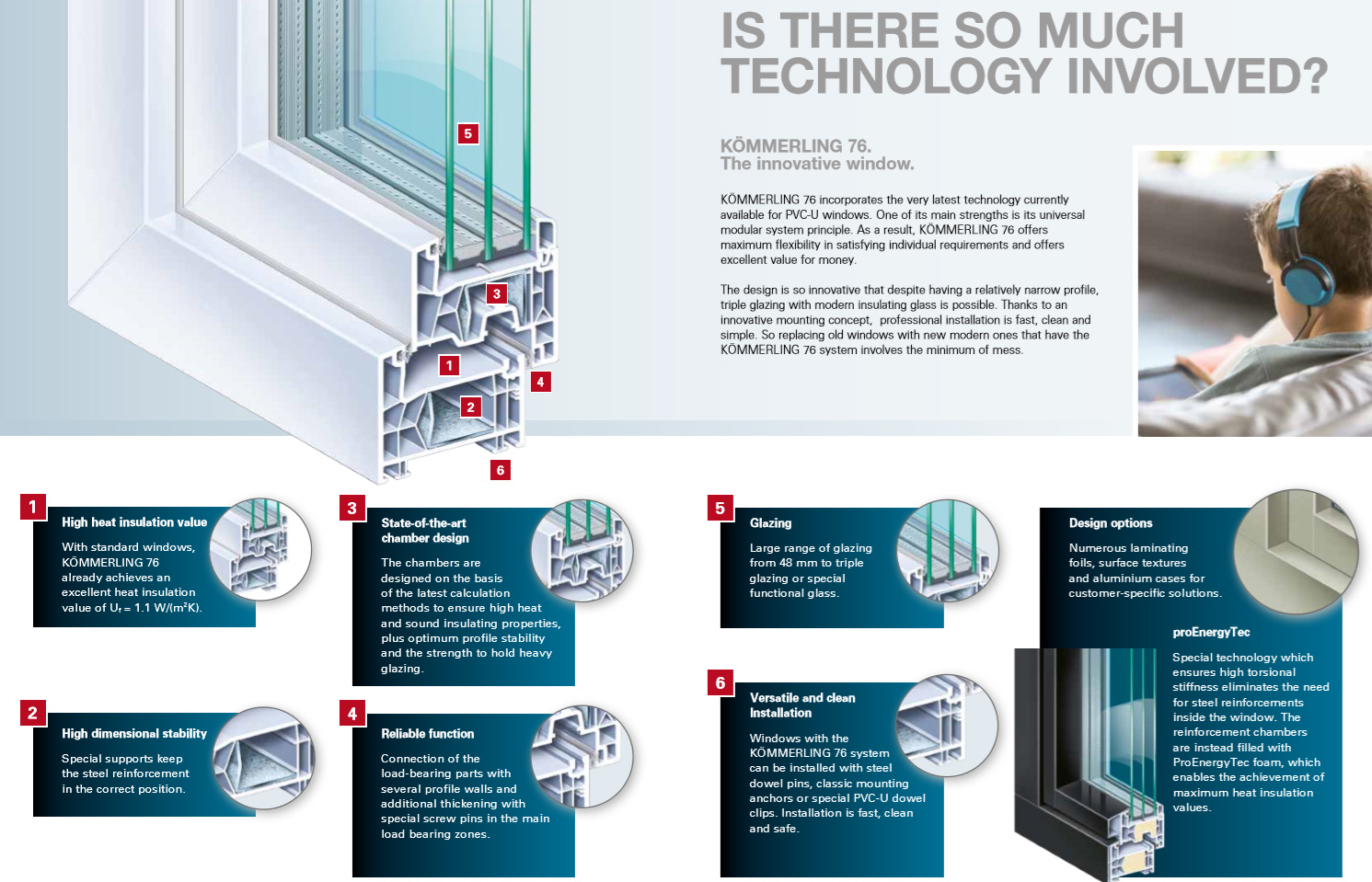 WATT DOES A WINDOW HAVE TO DO WITH A HIGH QUALITY AND EFFICIENT GLASS WITH LO-E COATING 366
INSIDE GLASS AND OUTSIDE TEMPERATURES
The table below compares the room-side center of glass temperatures of different glass types against two different winter conditions.
The superior insulating capability of Cardinal Loå³-366 is a key factor in the construction of comfortable windows for cold climates. The dramatic comfort improvement from windows with warm glass surfaces also means the relative humidity of the indoor air can be controlled and maintained properly. Proper humidity levels (not too much, not too little) will improve comfort and promote a healthier living environment.

A unique triple-layer coating.
For years, Cardinal has been setting the standard for energy efficient glass. Top-of-the-line residential window and door manufacturers all rely on our high quality. Our patented state-of-the-art sputter coating processes are unmatched by any other glass manufacturer.
Now we've raised the bar. Loå³-366 adds a third layer of silver coating. Result: a clear coating that blocks even more solar gain, reflects heat, and lets the light stream in. Loå³366 actually outperforms the tinted glass often used in warm climates.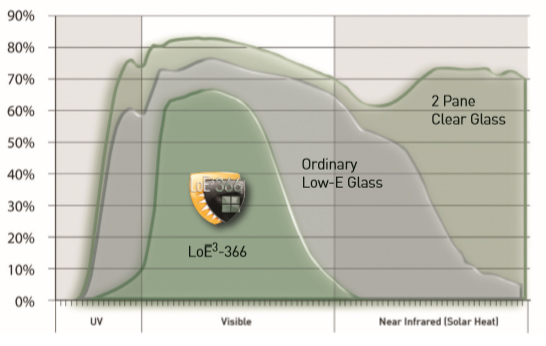 ENERGY STAR, everywhere.
The goal of the ENERGY STAR Windows program is to be better than code. Loå³-366 is the one low-E product that can qualify in all four climate zones: superior insulating value in the North, and clear solar control for everywhere else in the country.
Loå³
Look at the benefits on our windows and doors
Energy and cost savings
The 5-chamber technology of profiles keeps heat loss to an absolute minimum. It reduces energy consumption and keeps your heating costs low.
Best noise insulation
Noise exposure is more than just an annoyance, it can damage your health.
Even standard windows made with profiles significantly reduce external noise, and are upgradeable to conform to the lowest sound transmission class.

Perfect atmosphere
The excellent insulating properties of profiles minimise the temperature differences in your living space and ensure maximum comfort in your home. The extremely reliable gaskets is a high-performance barrier against cold and draughts.
Colour range
Coloured window frames and doors are a reflection of your individual character.
With a portfolio of over 30 different colour hues and wood fi nishes, we offer individual solutions for every taste and architectural style.
Increased security
Depending on their position and accessibility, windows need to fulfil a number of different security requirements. Special fittings, security glazing and handles can be fitted according to customer requirements to make profiles burglary resistant.
Valuable investment
New windows are a worthwhile investment which increases the value of your property. The durable surfaces of high-quality profiles remain attractive for many years.
They are easy to clean and never need to be painted.
Noise insulation | you need silence
Everyday life is dominated by hecticness. You long for more silence. EUROVISTA WINDOWS systems with special glazing offer you best noise insulation for a silent home.